DNA
ISLAMABAD: The Embassy of the Federal Democratic Republic of Ethiopia in Pakistan has celebrated Ethiopian New Year 2016 with traditional zeal and fervor.
In this regard, a colourful reception was hosted here for Government of Pakistan's officials, media, civil society, diplomatic corps and Ethiopian Diaspora.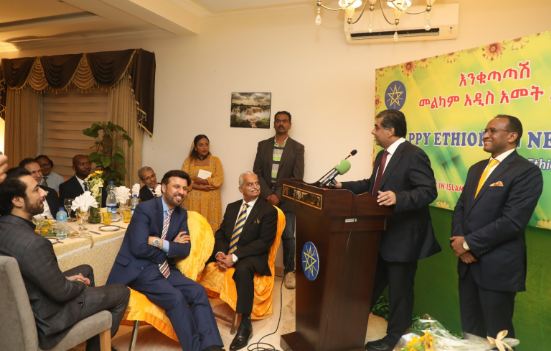 Gohar Ejaz, Minister for Commerce, graced the occasion as a chief guest, while other important guests including H.E. Atadjan Movlamov, Ambassador of Turkmenistan and Dean of Diplomatic Corps to Pakistan, Mohammed Karmoune Ambassador of Kingdom of Morocco to Pakistan, Former President of Islamabad Chamber of Commerce and Industry H.E. Zafar Bakhtawari and others also attended the ceremony.
H.E. Jemal Beker Abdula, Ambassador Extraordinary and Plenipotentiary of the FDR Ethiopia to Pakistan accorded warm welcome to all the guests upon their arrival at the celebration ceremony.
Speaking on the occasion, Ambassador Jemal Beker said every year on September 11, Ethiopia celebrated its new year in accordance with its own ancient calendar which was an identity of the FDR Ethiopia.
"Our calendar consists of 13 months, with 12 months comprising 30 days each and a 13th month consisting of 5 days. Every four years, this 13th month counts 6 days to account for a leap year. Hence, we find ourselves celebrating this public holiday on September 11, unless it is a leap year in the Ethiopian calendar, when we celebrate it on September 12," he explained.
He said the seven to eight-year gap between the Ethiopian and Gregorian calendars stemmed from an alternative calculation used to determine the date of the Annunciation.
At one moment, the gathering broke into a loud applause when H.E. Jemal Beker said "Whoever presents in this gathering today becomes seven years younger of his age."
He said on this day, all Ethiopians reaffirmed their unwavering faith in the core values that defined Ethiopia including love, forgiveness, unity, and harmony.
The ambassador said Ethiopia had a unique place in human history as the land of origin, with the discovery of Lucy—the human fossil believed to be one of our earliest ancestors. It was also the birthplace of coffee, with the village of Keffa giving coffee its name.
"Visiting Ethiopia is akin to reconnecting with your ancestral roots," he noted.
"Moreover, Ethiopia is renowned as the source of the Nile, the longest river in the world. Our nation also takes pride in producing some of the world's most exceptional athletes, and I am excited to announce plans to foster knowledge exchange between our athletes and our dear brotherly country in the realm of sports," the ambassador stressed.
He said the Ethiopian New Year of this year also marked completion of the first Ethiopian Embassy in Islamabad which was a testament to the strengthening of the diplomatic ties between the two countries. The Ethiopian Government inaugurated its Embassy in Pakistan last year, coinciding with diamond jubilee of Pakistan, he added.
The ambassador thanked the people and Government of Pakistan for extending hospitality, generosity, and sincerity to him and the FDRE Embassy during one year.
He also highlighted major initiatives of the FDRE Embassy in its inaugural year which included formal establishment of the Embassy, visit of historic trade delegation of 75 Pakistani businessmen to Ethiopia in March, 2023, arrival of high-powered official and business delegation of 50 persons from Ethiopia in Pakistan in May 2023 and commencement of Ethiopian Airlines operations in Karachi and signing of agreements with Pakistan in the areas of trade, investment, science, and technology.
Federal Minister for Commerce, Dr. Gohar Ejaz expressed gratitude to H.E. Ambassador Jemal Beker Abdula for inviting him to the celebration ceremony and emphasized on the close relationship between the two nations in trade, investment, tourism and technology transfer.
He highlighted the promising trade prospects between Pakistan and Ethiopia during the Ethiopian New Year celebration ceremony.
Dr. Ejaz noted and announced the opening of new Trade & Investment Offices in several African countries as part of the Look Africa Policy Initiative, aiming to strengthen economic engagement with African nations.