Manchester UK, AUG 2 /DNA/ – Manchester City Council Community Learning Department UK organized a ceremony to recognize and encourage the passion, work and dedication of Community Learning Volunteers who volunteer their services and skills in various established Community Learning Centers across Manchester.
A simple but dignified ceremony to pay homage was held here in the spacious auditorium of the People's History Museum, Manchester, presided over by District Program Leader Naomi Bath and assisted by Nawala Treece. It should be remembered that immigrants coming to Britain from different countries across England, whose mother tongue is other than English and who are unable to speak English in the society, are given free educational courses in these institutions for their educational and linguistic training.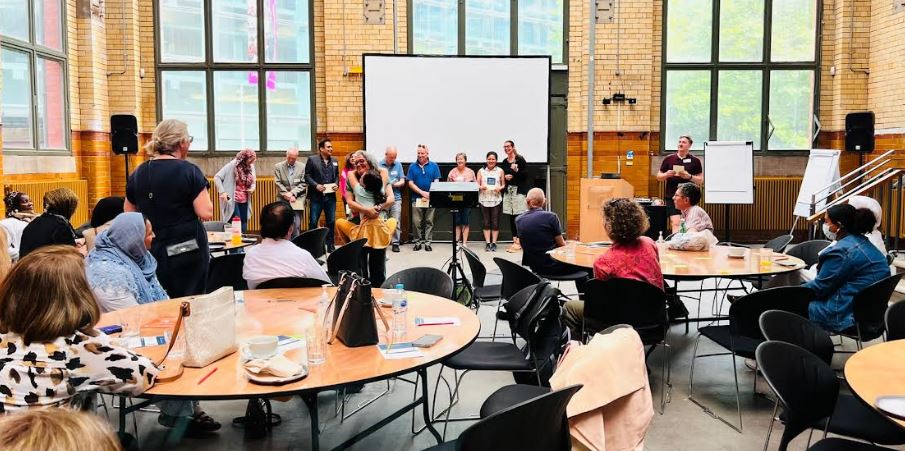 On this occasion, in his address to the participants of the ceremony, the speakers praised the work of the volunteers and admitted that they are performing a difficult but important national duty. There has been a significant change in the lives of many people. Acknowledging the passion of the volunteers, he also said that you may never have realized or thought about the fact that talking politely with your learners, Listening with empathy, giving them attention with a smile on their face is changing their days and giving them the confidence to go out of the classroom, conversation club and speak English.
He also said that we received good, encouraging feedback from the classroom tutors and conversation club organizers about the learners and volunteers. which is a good title that the organizations are getting better results from the objectives for which they are working and in this context the volunteers will also get some better learning opportunities, he expressed hope. The speakers expressed their happiness on this matter and said that many people have learned the necessary sciences and skills including English and mathematics by using these learning centers and now they are living a happy, economically prosperous family life in the new society. are On behalf of Manchester City Council's Community Learning Team, which included Peter Wilson, Lisa Robinson, Kate Lloyd, Lindsey Loftus, Jess Mock, Clunder Farrar, Anna Zilla, Gaynor Hood and Anna Thurston, all participants attended the event, Senior Volunteers Attaullah. Thanks to Cheema, iApp and the community for their generous participation. The host country in the event is Great Britain, Pakistan, Poland, Turkey, India, Syria.