The key point in Kazakh-Pak relationship front the beginning is a total absence of any profound disagreements, what makes our countries able to develop cooperation in any field: Ambassador Yerzhan Kistafin
Exclusive
Ansar M Bhatti
Ambassador of Kazakhstan Yerzhan Kistafin gave an exclusive interview to Daily Islamabad POST. This was his first-ever interview to any Pakistani media house, after assuming charge of the office of the Ambassador of Kazakhstan to Pakistan. Ambassador Kistafin recently presented his credentials to the President of Pakistan Dr. Arif Alvi. Attired in the traditional Kazakh dress Chopan, Ambassador Yerzhan Kistafin talked extensively about bilateral as well international relations. His interview shall be published in parts in Daily Islamabad POST while it will also be published in the October 2021 issue of CENTRELINE magazine.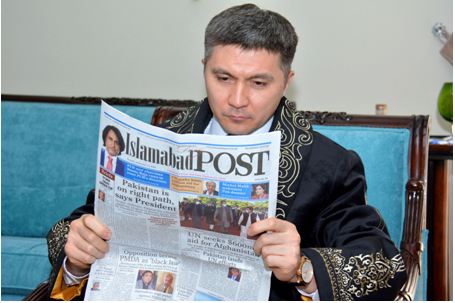 Please share with our readers a brief history of Kazakhstan including life style; historical background; tourist destinations; cuisines, etc.?
It is important to note, that Kazakhstan is the country, whose almost 19-million population, despite of being ethnically diverse, is mostly composed by Kazakh people with their own language, culture, traditions and, of course, history.
Another issue to mention is that history of Kazakhstan is largely the one of nomads, who Kazakh people had been for centuries before totally got sedentary at the very beginning of the 20th century. This is the reason why Kazakh traditions, folk music, traditions, cuisine are referring so much with our nomadic past.
As for the term "Kazakh" and its origin, scholars have different views but the most popular among them is the one that the word "Kazakh" means free and warlike people.
Just few years ago, Kazakhstan widely celebrated the 550th anniversary of creation of the Kazakh Khanate, a nomadic state, which is known as the first statehood of Kazakh people and predecessor of modern-day Kazakhstan. The Kazakh Khanate was a successor of the Golden Horde and existed from the 15th to 19th century. The khanate was established by Janibek Khan and Kerei Khan around 1465.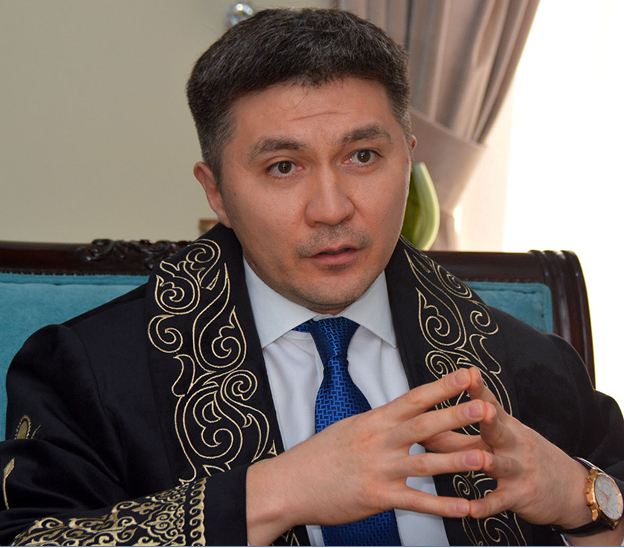 Kasym Khan, a son of Janibek (then leader of Kazaks), helped Babur, founder of the Moghul Empire, to conquer Kabul and Delhi Sultanate afterwards, sending Kazakh warriors to join Babur's army.
Since the first half of the 18th century, the Kazakh Khanate gradually got under the power of the growing and expanding Russian Empire, what ended up in the 19th century with the abolition of the Khanate and total incorporation of Kazakh landmasses into the Russian Empire. During that time, Pakistan as well as the most of the Indian subcontinent was gradually getting under control of the British Empire.
The 20th century was mostly the era of the so-called Soviet Kazakhstan, when our country was an integral part of the USSR and developed within the Soviet power until it collapsed in 1991.
Nowadays sovereign Kazakhstan, which is celebrating this year the 30th anniversary of its Independence, is a well-known state with a strong commitment to enhance mutually beneficial relationship with any state of the world, including, certainly brotherly Pakistan.
In this regard, I would like to reiterate the fact that Pakistan was among the first to have recognized Kazakhstan as a sovereign state in late 1991. It followed by the establishment in February of 1992 of diplomatic relations between our countries, which at present have enormous potential in developing interstate cooperation in every field.
What are major exports and imports of Kazakhstan?
Kazakhstan is the biggest economy in Central Asia and our strategic goal is to secure leading positions in the region and strengthen our niche in the world economy.
But as any another national economy in the world the economy of Kazakhstan was badly damaged by COVID-19 pandemic. Nevertheless, the Government of Kazakhstan managed to keep the economic situation in the country under control and start overcoming consequences of the pandemic.
Kazakhstan is known as a country, blessed to have huge natural resources, including oil, gas, metals, uranium and many others, which the world economy still needs and makes our country a major exporter of natural resources. Currently the bigger part of our national export volume are natural resources, which comprise more than its half.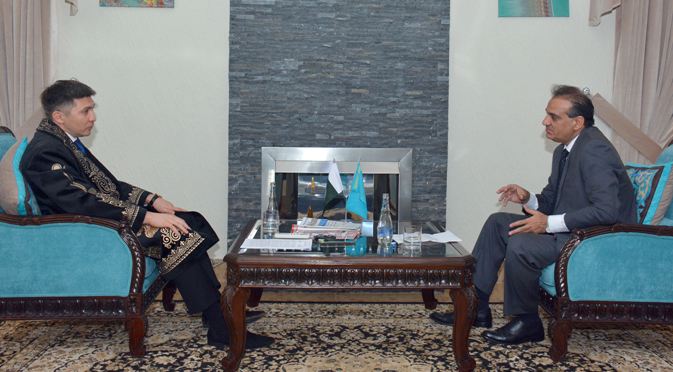 But from the very beginning of Kazakhstan's independence for us it quite clear that exhaustible natural resources cannot be a backbone of national economy, what made our country to do its best in diversifying its economy in favour of developing other sectors and make them competitive worldwide.
Achievement of this objective is of strategic importance for Kazakhstan for the reason our national economy to be sustainable and less dependent upon world prices for natural raw resources. Recently the President of Kazakhstan Kassym-Jomart Tokayev in his Address to the nation reiterated the need to keep making our economy diversified through extending the production of ready-to-export goods.
As president Tokayev stressed in his annual address to the nation, delivered on 1 of September 2021: "At the end of 2020, for the first time in 10 years of industrialization, the contribution of the manufacturing industry to the development of the economy exceeded the share of the mining industry. We are planning to increase by 2025 the volume of export of manufacturing industry to 1,5 times and the volume of labour productivity up to 30%".
One of the sectors we want to make competitive is agriculture, which in the future may be a driver of the Kazakh economy. President Tokayev in his annual Address said that Kazakhstan has the enormous agrarian potential and outlined the measures we need to take in order to develop our agriculture.
In this regard, it is worthwhile to say that at present Kazakhstan is among top ten world exporters of high-quality wheat. Last year our country exported the wheat, worth of almost 1,1 billion USD. This is the reason why our country is in constant search of profitable markets worldwide, including the ones in South Asia.
At the same time Kazakhstan imports in big volumes various technical equipment and machinery, pharmaceuticals and vehicles. But right now we are on the way to lessen our dependence on importing this stuff through trying to produce it domestically. This is all part of our national economic policy, designed to ensure by 2050 Kazakhstan's joining the list of 30 most developed nations in the world.
How would you describe relations between Kazakhstan and Pakistan? And what are the key areas where both countries can cooperate?
Relationship between our countries go back to 1991, when Kazakhstan emerged as a sovereign state, but official diplomatic ties were established in February 1992, during the first official visit of the First President of Kazakhstan, Mr.Nursultan Nazarbayev to Pakistan.
The key point in Kazakh-Pak relationship since then is a total absence of any profound disagreements, what makes our countries able to develop cooperation in any field.
Furthermore, geographic proximity, as well as deep historical and cultural links between peoples of Central and South Asia are creating most favourably environment to bring our nations much closer than they actually are.
It certainly should be manifested through development of business-to-business and people-to-people contacts, which are still at a relatively low level due to lack of information about each other, some visa policy restrictions and no direct air flights between our countries. These are formidable impediments indeed but not unresolvable, given the will from both ends to do it.
The area we can develop bilateral cooperation the most is certainly trade and economy, as Kazakhstan as a largest land-locked country in the world needs to get secure and shortest access to the sea. And Pakistan can provide it through Karachi and Gwadar ports. Moreover, Pakistan, whose growing population needs more food supplies, potentially is a great market for the Kazakh wheat and other food items.
On the other hand, the COVID-19 pandemic made us certain that Kazakh pharmaceutical industry needs to be reformed to meet the challenges of this kind. This is why we would be much interested in setting up cooperation with Pakistani pharmaceutical industry and in the domain of medicine as a whole.
Kazakhstan is steadily developing in cooperation with top world universities the network of English-speaking higher education institutions, where students from Pakistan could study, as they already do in Kazakhstan's medical universities. Education area is indeed the one we should pay constant attention upon in terms of enhancing people-to-people contacts. It is essential for making our nations well aware of each other.
Keeping in mind the reputation of the Pakistani armed forces as one of the most powerful and effective armies of the world another field of cooperation to be developed between our countries is the military one.
Last month armed forces of Kazakhstan and Pakistan held another round of military drills of "Dostarym-2021" here in Pakistan and the recent visit to Kazakhstan of the Chairman Joint Chiefs of Staff General Nadeem Raza gave big impetus to strengthening Kazakh-Pak military ties.
We have also a bilateral commission on military-technical cooperation and I hope that before the end of the current year we shall hold the inaugural meeting of that commission here in Islamabad.
Regional stability is a must for regional connectivity and trade activities. What is your take on this especially in view of the emerging situation in Afghanistan?
As I said, regional connectivity matters are essential for the land-locked Kazakhstan. This is why Kazakhstan, being located in the very heart of Eurasia, is strategically interested in turning to be a regional transportation hub. This is at the best interests of not only Kazakhstan, but also of other countries.
This is also true for countries of South Asia, like Pakistan, through the territory of Afghanistan.
Afghanistan territory had been for centuries function as geographically most suitable trade link to connect Central and South Asia. There is now a unique chance to re-establish that link to boost contacts between two regions, which have a lot to offer each other.