ISLAMABAD, FEB 27 (DNA) – The Ambassador of Pakistan to Belarus Sajjad Haider Khan held a meeting with Alexander Moshensky, a leading Belarusian businessman, owner of JV "Santa Bremor" LLC (group of companies) and the Honorary Consul of Iceland in the Republic of Belarus. Besides, he owns 220 retail stores, the third largest retail chain stores in Belarus."Santa Bremor products (about 900 items) are sold in 29 countries of the world.
The Ambassador highlighted the potential of expanding trade ties between Pakistan and Belarus, especially import of fish products, rice and fruits from Pakistan for the Santa chain stores.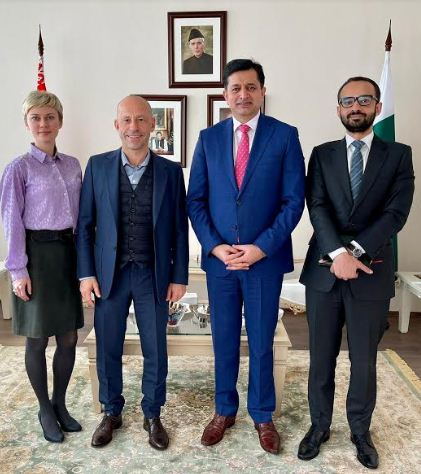 Appreciating the briefing, Moshensky offered to start importing fish products from Pakistan. He also offered to facilitate the Mission in licensing procedure , a mandatory requirement for approving the fish exporting companies. It was agreed to hold further discussions with textile companies in Brest city of Belarus in the coming months.