Khalid Taimur Akram
The 21st century has many key determinants as it is the most revolutionary age in history. The pace and scope of the transformation have never been this great. Countries are inclined towards cooperation and wider regional alignments through economic linkages in the multipolar world, pursuing their collective goals.
Therefore, it is important to consider the complex balance sheet involving challenges and opportunities to access different aspects of International Relations between Central Asian and South Asian countries. To understand the existing potential of the broader region, examining geo-political and geo-economic pillars is highly significant. While analyzing the historical perspective, it is evident that this era has brought many transitions.In present times, countries have deepened cooperation among other states and regions. In this context, the revival of cultural and humanitarian ties can pave the way to strengthen friendship and mutual understandings between Central and South Asian countries.
Intercultural Dialogue Process:
Regional connectivity is the key mantra in today's political and economic discourse. It is significant for the socio-economic development of any state. The broader cooperation offers a rationale for upgrading and revising the world's narratives and policies to match pace with the time. In this aspect, the grand initiative of "Central and South Asia's Regional Connectivity," proposed by the President of Uzbekistan, His Excellency, Shavkat Mirziyoyev, is pertinent to discuss. The concept has been advocated to highlight the broader foreign policy objectives of Tashkent in contemporary times.
In the 21st century, the rise of Uzbekistan's potential role both within and outside the Central Asian block has been witnessed due to the remarkable efforts of incumbent Uzbek President Shavkat Miriyoyev. Uzbekistan has become a significant regional player to connect Central Asia with South Asia via successful economic development programs. Moreover, the third Renaissance declared by the President of Uzbekistan is likely to bring fruitful outcomes for the country and integrate other regional countries. Constructive reforms have been announced under the third Renaissance. Therefore, it is significant to understand the robust structure of Uzbekistan's foreign policy targets.The Renaissance period is amid contemporary reforms, policy framework, and innovativedimensions, paving the way for regional integration, economic cooperation, and building a wider understanding of mutual interests.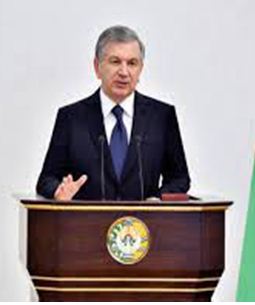 The Third Renaissance under President Shavkat Mirziyoyev:
Uzbekistan's growing energy requirements and need for strong strategic allies have also played an important role in easing relations with important regional powers. In this aspect, multiple contracts were also signed for economic projects with many countries. Significant efforts are being held to increase trade, build new industrial cooperation chains and diversify cargo transportation routes through the efficacious Belt and Road initiative (BRI). Recently, the commencement of trade between Uzbekistan and Pakistan via Afghanistan has been a milestone achievement. Pakistan signed the Convention on International Transport of Goods Under Cover of TIR Carnets in August 2015, a multilateral treaty that entails no payment of customs duties and taxes. Pakistan ratified the convention in January 2016. Under this multilateral agreement, the first-ever shipment of Goods for traffic-in-transit of goods across the border reached Pakistan from Uzbekistan via Afghanistan in present times. The trade-commerce activity has paved the way for future collaboration in many other fields.
One cannot ignore Uzbekistan tremendous role in Afghan Peace Process. The Uzbekistan government's constant efforts to erase the mistrust between Afghanistan's neighboring countries havebecome a reality.Forensuring lasting peace in Afghanistan, Uzbekistanhas formed relations with all the major stakeholders involved in resolving the Afghanconflict. Moreover, the incumbent leadership has also allowed enhancing people-to-people connections, trans-regional trade-commerce activities, and joint peacemaking efforts toassimilate the Afghan government and people. Uzbekistan's government has rightly felt the need to have a peaceful approach so that economic and political prosperity goals with wider regional connectivity can be achieved. Therefore, the third Renaissance would prove to be a milestone for Uzbekistan to portray its image as a more accountable nation.
Uzbekistan's Significant Foreign Policy Contours: Prospects for Multilateral Cooperation
More proactive and vigilant interest in seeking positive regional influence and conducting international peace activities by President Shavkat Mirziyoyev has enabled the country to become a key regional player.In general, by promoting socio-economic, energy, transport & communication projects in the neighboring country, andincreasing regional trade ties, Uzbekistan seeks to promote the transformation. Moreover, it is inclined to establish a link between Central and South Asia, making place for mutually beneficial interregional cooperation.
The idea of Central-South Asian connectivity encapsulates broader paradigms, i.e., economic growth and revival of cultural and humanitarian relations. The narrative further strengthens friendship and confidence, ensure the security of cross broader infrastructure, and formulate effective policies for countering common threats. Pakistan, as a close ally, appreciates and supports this remarkable initiative. Pakistan is ready to enhance the sphere of cooperation in multiple fields to curtail the difference, bring regional peace, promote friendly relations, enhance cultural integration, upgrade regional security architecture, and combat common challenges.
Center for Global & Strategic Studies (CGSS), Islamabad collaborations with Uzbekistan
CGSS is a leading Think Tank of Pakistan that works in close collaboration with various countries across the globe particularly the Eurasian countries. Currently, CGSS is working in collaboration with many institutions in Uzbekistan which are as below:
The Institute for Strategic and Regional Studies (ISRS) under the President of the Republic of Uzbekistan, Tashkent, Uzbekistan
Center for International Relation Studies (CIRS), Uzbekistan
Karakalpakstan State Pedagogical University, Uzbekistan
Namangan City Administration, Republic Of Uzbekistan
Information Agency "Dunyo", Republic of Uzbekistan
UzReport Information Agency, Tashkent, Republic of Uzbekistan
Uzbekistan Women Business Association, Uzbekistan
NUKUS State Pedagogical Institute named after Ajiniyaz Republic of Karakalpakstan, Uzbekistan
It is an honor for the CGSS expert panel and the Members of its Advisory Board to attend the International high-level conference on "Central and South Asia: Regional connectivity. Challenges and Opportunities" to be held in Tashkent from 15-16 July 2021. The following Members will attend the Conference:
Major General Syed Khalid Amir Jaffery, HI(M), (Retd), President, CGSS. Ansar Mahmood Bhatti, Chief Editor, Daily Islamabad POST, Prof. Dr. Shabir Ahmed, Director, Area Study Center, (Russia, China, and Central Asia), University of Peshawar, Dr. MehmoodUl Hassan Khan, Regional Geopolitical Analyst , Riaz A. Malik, Group Editor, National Herald Tribune, Khalid Taimur Akram, Executive Director, CGSS and Tahir Farooq.
The writer is the Executive Director Center for Global & Strategic Studies (CGSS), Islamabad