DNA
High Commissioner Imran Ahmed Siddiqui briefed DCCI about Pakistan's huge export potential in high quality goods and services and underlined the need for leveraging this potential
DHAKA: High Commissioner Imran Ahmed Siddiqui visited Dhaka Chamber of Commerce and Industry (DCCI). He was accompanied by relevant officials of the High Commission for Pakistan, Dhaka.
During the formal meeting, the two sides agreed that there was a vast potential to further strengthen trade, business and investment cooperation between the two fraternal countries.
High Commissioner Imran Ahmed Siddiqui briefed DCCI about Pakistan's huge export potential in high quality goods and services and underlined the need for leveraging this potential.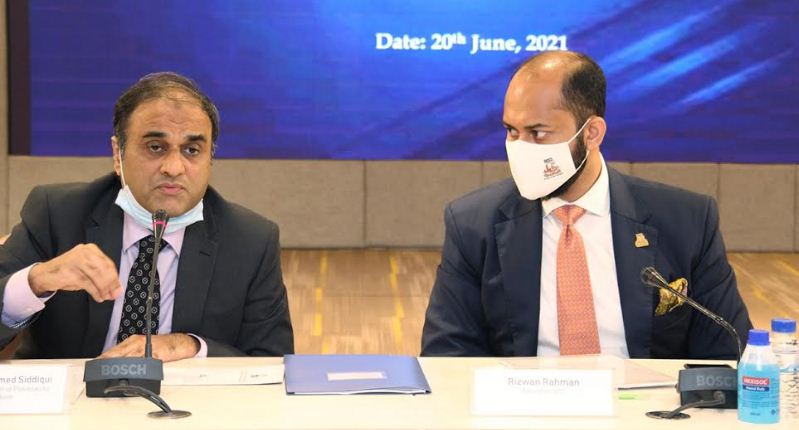 The High Commissioner and President (DCCI) jointly inaugurated a 10×4 ft calligraph-art presented by the High Commission to DCCI. The art piece has been painted by Mr. Asghar Ali, Naqqash Masjid-un-Nabvi Ashareef, Madina Munawwarah.
It may be recalled over 55 Pakistani companies had attended the DCCI Business Conclave in January this year. Later, President Rizwan Rehman had spoken at Pakistan International Chambers Convention.
Established in 1958, DCCI is the largest Chamber of Bangladesh and has an experience of over four decades of rendering useful services for the development of business and industry in the country.