The Embassy of Pakistan in Jakarta, in collaboration with the Embassy of People's Republic of China in Jakarta, held a webinar titled:'Investment Opportunities in China Pakistan Economic Corridor
DNA
JAKARTA, APR 23 – The Embassy of Pakistan in Jakarta, in collaboration with the Embassy of People's Republic of China in Jakarta, held a webinar titled:'Investment Opportunities in China Pakistan Economic Corridor'.
The webinar aimed at highlighting achievements of CPEC as the flagship project of BRI and highlight the concept of its inclusiveness and openness to the third parties. The focus of the event was to underscore that CPEC, after successfully completing its initial phase, has now entered its 2nd phase, establishing a number of special economic zones (SEZs) along its routes, and that these SEZs provide ample investment opportunities for investors from third countries including Indonesia.The webinar was attended by prominent investors, businessmen, scholars, experts and media houses from Indonesia and China.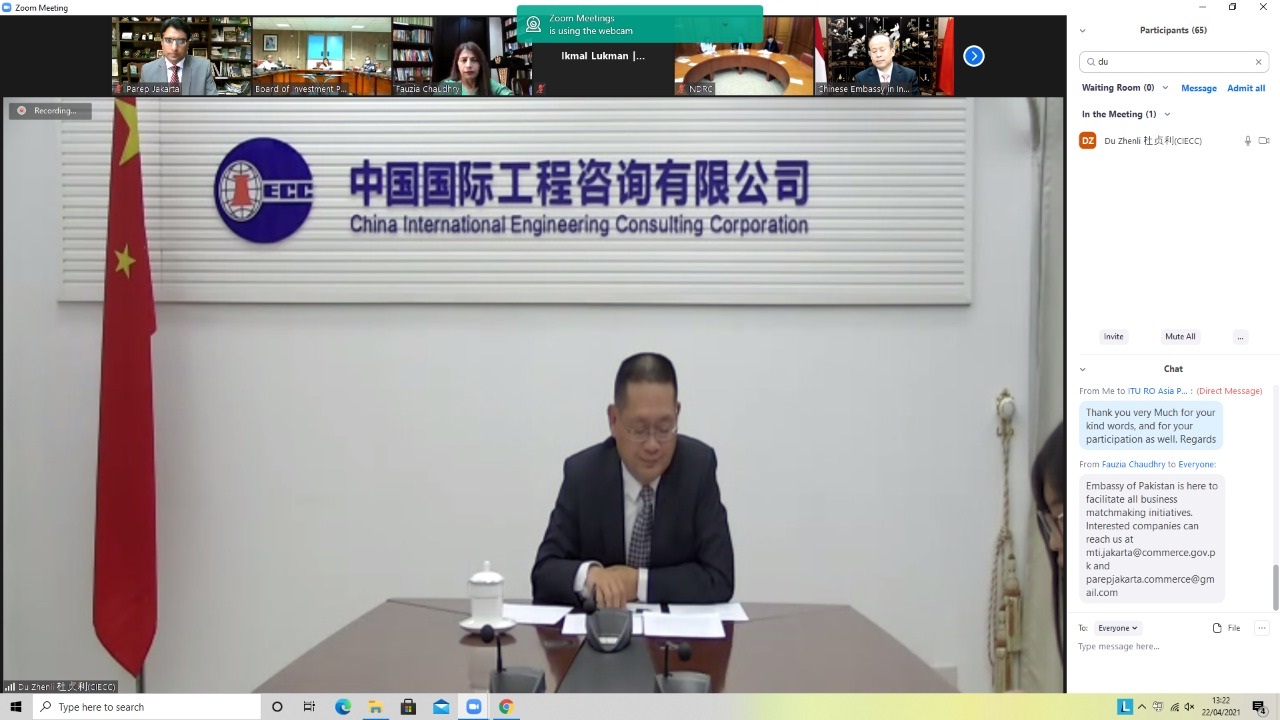 The Webinar was addressed by speakers from Pakistan, China and Indonesia. Keynote speakers included Mr. Atif R. Bokhari, Minister of State/Chairman, Board of Investment,Pakistan, Mr. SeptianHarioSeto, Deputy Minister for Investment Coordination & Mining, Indonesia,and Mr. Ying Xiong,Director General, NDRC, China.Muhammad Bawazeer, Indonesian Chamber of Commerce and Industry (KADIN), and Mr. Ikmal Lukman, Deputy Chairman Board of Investment(BKPM), Indonesia also spoke on the occasion, while experts from BOI of Pakistan, NDRC of China and KADIN of Indonesia made presentations.
In his opening remarks, Ambassador of Pakistan Muhammad Hassanwelcomed the participants and stated that China-Pakistan Economic Corridor (CPEC)- an important pilot project of the Belt and Road Initiative-was an unparalleled venture for regional connectivity and infrastructure development that links three regions, South Asia, Central Asia and West Asia with China/Southeast Asia through Pakistan. He mentioned that government of Pakistan was providing special incentives for investment in various CPEC projects and invited Indonesian companies to take advantageof these incentives.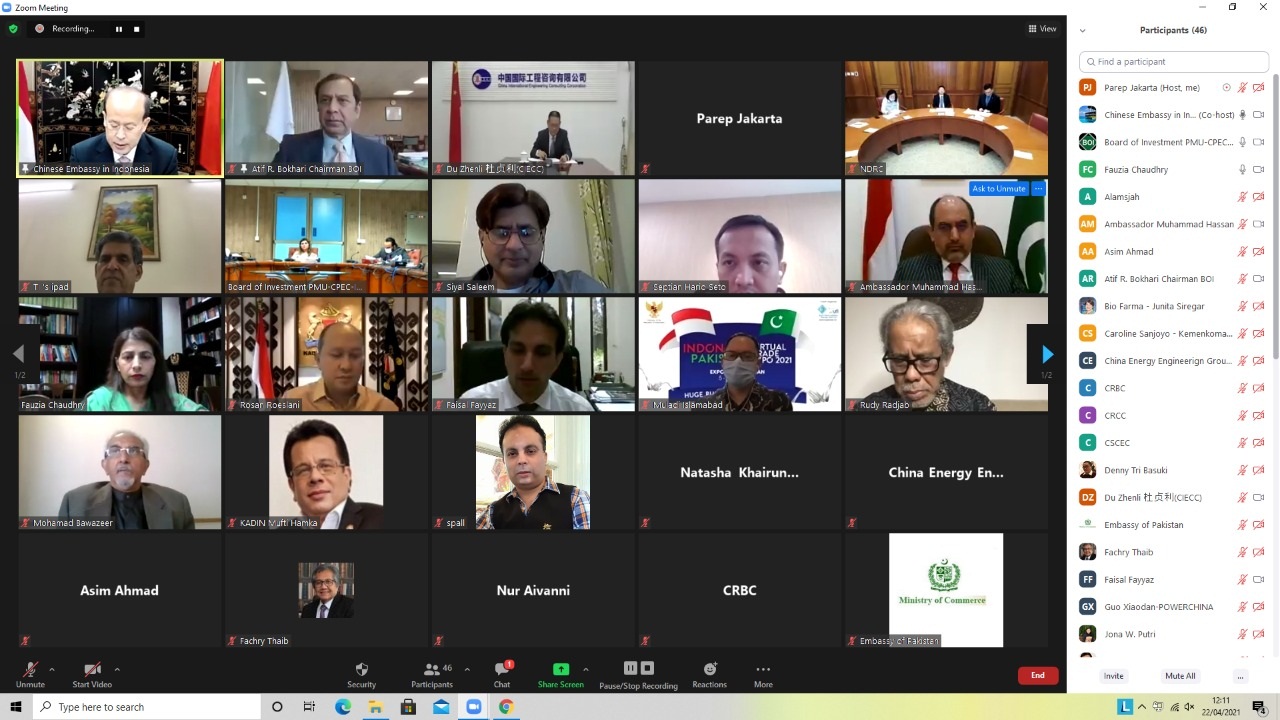 Referring to the all-weather China-Pakistan friendship and strategic partnership, Ambassador Xiao Qian of China stated that CPEC had created abundant and profitable opportunities for entrepreneurs and investors, including from Indonesia.He pointed out that there were good opportunities to explore possible trilateral corporation in areas such as regional connectivity, industrial parks, fight against the COVID-19 pandemic and public health and join the allocation of resources in East Asia, Southeast Asia and South Asia. He also proposed to integrate the supply chains from across the regions for the ultimate goal of common development and benefits for the peoples of the three countries.
Mr. Atif R Bokhari, MOS/Chairman Board of Investment, Pakistan highlighted that CPEC Industrial Cooperation (IC) was a long-term endeavor which was picking up pace. He mentioned that the Industrial Cooperation was not limited to Pakistan and China as other countries, particularly Indonesia, would be welcomed to participate. He underscored that the first phase of the CPEC hadbeen successfully completed with the development of infrastructure, rail and power projects, providing Pakistan with a backbone for industrial development. He outlined briefly conducive policies of the government to attract foreign investment in Pakistan and stated that many foreign enterprises were already enjoying the incentives and benefits being offered. He invited Indonesian businesses to benefit from the investment regime of Pakistan especially the opportunities under CPEC.
While quoting the bilateral trade between Pakistan and Indonesia, Mr. SeptianHarioSeto, Deputy Minister for Investment Coordination & Mining, Indonesia stated that out of the total bilateral trade of USD $2.3 billion in 2020, Indonesian palm oil (CPO products) contributed USD $1.7 billion. He expressed hope that Indonesian investors could explore investment in CPO production and processing in Pakistan to build downstream industry along the CPEC corridor.
The Chinese speakers from NDRC and the Chinese expert also stressed the significance of the webinar which was being held one month before the 70th anniversary of the establishment of diplomatic ties between Pakistan and China. They reaffirmed that historical relationship and unprecedented friendship between Pakistan and China will grow stronger over the years and highlighted the values of industrial cooperation under CPEC and inclusiveness of its scope and openness to all countries for investment.
Muhammad Bawazeerfrom Indonesian Chamber of Commerce and Industry (KADIN) gave a detailed presentation of prospects of halal meat industry of Pakistan and potential of its export to the world including Indonesia. He also mentioned about investment of Indonesian company Indomiein Pakistan.
Towards the end, Mr. Asim Ayyub, from Board of Investment, Pakistan gave a detailed presentationon investment regime of Pakistan and opportunities for foreign investors under CPEC including form Indonesia. His presentation was followed by Q&A session.