President Shavkat Mirziyoyev is chairing a videoconference devoted to the work undertaken in Uzbekistan to combat the coronavirus pandemic.
It was noted with regret that the spread of COVID-19 in the world has recently accelerated, the total number of cases has reached 19 million and deaths increasing.
That the World Health Organization extended the global emergency for another three months on July 31 is also suggestive of seriousness of the situation.
Over the past week, more than 5,000 new cases of infection were detected in Uzbekistan, and the total number of infected approached 27,000. Moreover, the incidence of pneumonia with severe consequences is increasing.Taking this into account, additional measures have been taken in the country. In particular, over the past 20 days, the number of beds for treatment of COVID-19 has increased by 3.5 times and reached almost 65 thousand.
Almost 800 ambulances have been delivered to places.An additional 4,000 respiratory devices (ventilators, portable CPAP machines, oxygen concentrators) were imported, their total number reached 6.5 thousand.– It is necessary to continue and strengthen systemic work to prevent the spread of the virus among the population and treat patients, – said the Head of the state.
It was emphasized that the Ministry of Health, khokims and sector leaders should be fully prepared for treatment of coronavirus and pneumonia and are personally responsible for providing each patient with necessary medical care, their hospitalization based on the course of the disease, as well as treatment.The need was noted for further intensification of the local primary healthcare system.For example, in Tashkent, due to organization of well-coordinated work as part of the scheme "family polyclinic – mobile brigades – specialized polyclinics – ambulance service 103", it was possible to increase the proportion of those who recovered from 45 to 58 percent within a week.In this regard, Deputy Prime Minister Bekhzod Musayev, as well as khokimiyats and heads of sectors were instructed to complete, within a week, the deployment across the regions of Tashkent-tested system for treating asymptomatic patients at home with the help and recommendations of mobile medical teams.President Shavkat Mirziyoyev noted the importance of redirecting small local hospitals back to their treatment profile for other types of diseases, including chronic ones, while continuing to organize centers for receiving and sorting out COVID-19 patients.– The Council of Ministers of the Republic of Karakalpakstan and regional khokimiyats should fully contribute to effective organization of the work of heads of specialized centers and higher education institutions assigned from Tashkent, – the President said.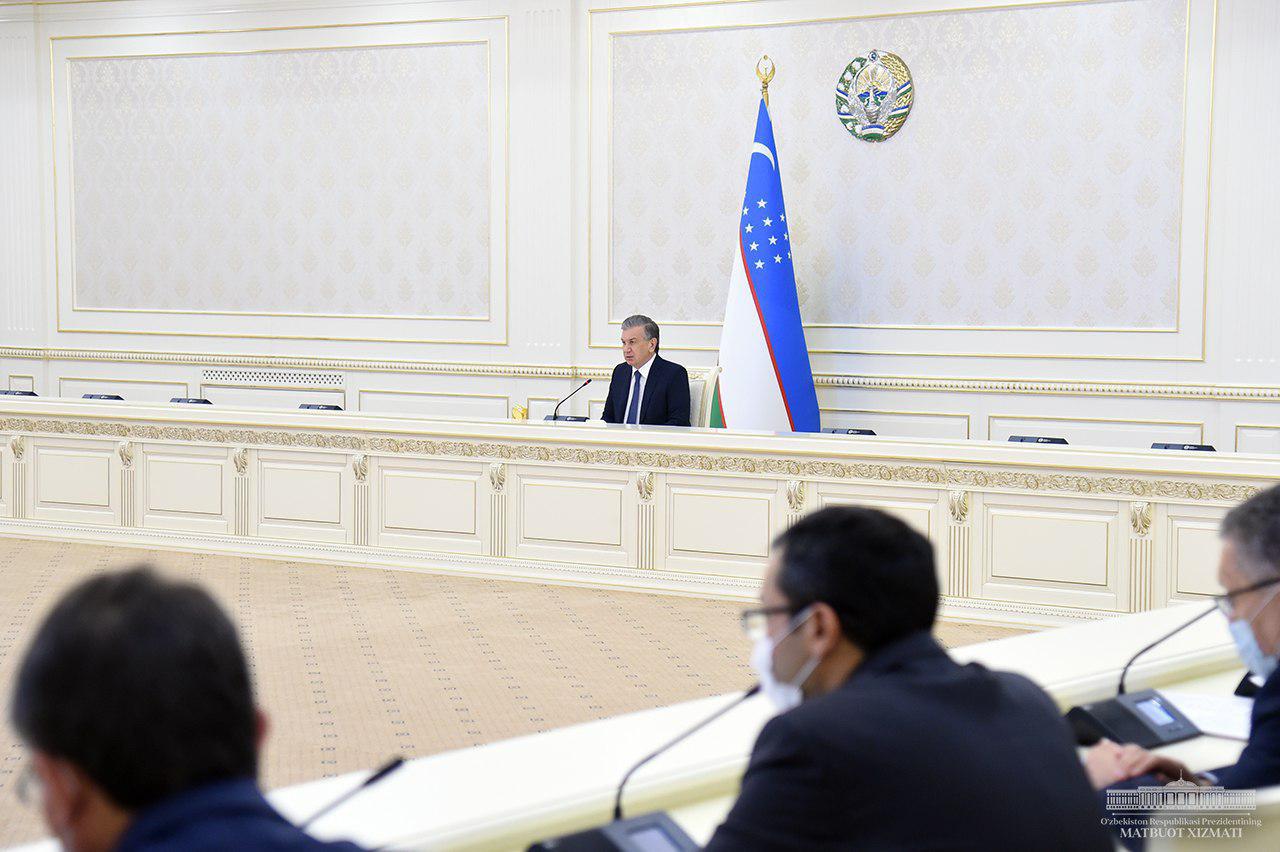 Shavkat Mirziyoyev noted that in each case of severe course of the disease, it is advisable to consult on treatment tactics with domestic and foreign specialists via videoconference.As is known, intensive research is currently underway in a number of countries to find a cure for the coronavirus. It is reported that pharmaceutical companies in China, India, the United Kingdom and Russia will soon start producing the vaccine.In this regard, Deputy Prime Minister Bekhzod Musayev was instructed to study, within a week, the possibilities of purchasing vaccines and vaccinating Uzbekistan's population, after consulting with leading scientists and experienced doctors.The need was noted for strengthening participation of makhalla institution in preventing the disease, delivering citizens with suspected coronavirus to hospitals, explaining quarantine requirements and implementing public control.For our people are accustomed to appealing to the makhalla with a great diversity of issues.– Almost 40 thousand people work in 9,150 makhallas across the country and receive salaries from the budget, – said the Head of the state. – We have increased their salaries almost by 1.5 times this year. They should not stay on the sidelines in such a difficult situation. There's hardly anyone at the grassroots level who knows as well as representatives of the makhalla what the state of affairs is in the neighborhood, who is sick, who has what level of income, who needs help, and who needs a doctor.To this end, khokims and sector leaders should bring together makhalla chairpersons, crime prevention inspectors and other personnel, local activists and senior citizens, medical workers assigned to makhalla, toward connecting persons with suspected coronavirus and those who are infected on the one hand, and ambulance service and doctors on the other.Representatives of local civil society institutions should also take an active part in delivery of food to needy families and medicines for patients who are recommended for home treatment.– Meanwhile, they should lead explanation works and secure public control over the inexpediency of leaving home for no reason and getting together, over the need to wear a medical mask and observe social distance, refrain from holding weddings and other family events, – noted President Shavkat Mirziyoyev.